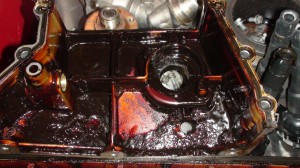 An oil change sounds simple, but there's some pretty important things to know about preventing oil sludge. Oil eventually starts to turn into jelly. Literally – petroleum jelly. Sludge clogs up oil passages and keeps oil from getting to some areas of the engine, causing parts to wear out prematurely. And that means expensive engine repairs.
That's why you need to change the oil and oil filter on schedule – to get the old oil out before it turns to sludge.
Your owner's manual will have a recommendation for time and mileage, but you need to remember that it's based on using the recommended weight of oil. And if your vehicle came from the factory with synthetic oil, the recommended intervals assume you continue to use synthetic.
Also how you drive can have a big effect. Things like stop and go driving, short trips, driving in very hot or very cold weather, heavy loads and towing, are harder on your vehicle.  If some of your driving fits this, you may need to change your oil and do other maintenance on a shorter schedule.
Changing your own oil requires ramps or a jack and jack stands, a box-end wrench and something to catch and contain the oil.
An oil and filter change involves draining out the old motor oil and replacing it with fresh, new motor oil. The oil filter also gets replaced at the same time, which you'lll need an oil-filter wrench.
In general, yes. Changing your vehicle's oil is one of the most important things you can do to avoid some major, more expensive, problems later on.
However, there's a lot of controversy about exactly when engine oil gets old and how often it should be replaced with new oil. We recommend that you change your oil and filter every 5,000 miles. That's our best estimate. It may be too soon for many people and too late for a few, but for the vast majority, 5,000-mile oil changes will help your engine last.
Yes, you need to check the oil level every few hundred miles. With your car parked on a level surface, remove the oil dipstick, clean it on off and then reinsert it. Remove it again, and check the oil level.
The dipstick shows the engine's oil level; the MIN marking means the oil is at the minimum operating level and is one quart low.
Ideally, it should be right at the full mark. If it's at or below the add mark, that means you're a quart low and should add a quart of oil to the crankcase. If it's in between the two marks, you can add part of a quart to bring it up to the full mark (the distance between add and full represents a quart, so use that to estimate how much of a quart you need). Be aware, however, that since oil flows slowly when it is cool, the dipstick may not immediately reflect any oil you just added. So estimate the amount of oil you need based on your first dipstick reading, and then check it again later that day or the next day to be sure you're near the full mark.
A word of caution: Be careful not to overfill your car's crankcase with oil. If you put in too much oil, the engine's crankshaft can actually come in contact with the oil. And because the crankshaft is turning at several thousand revolutions per minute, it can quickly whip your oil into a froth. The oil pump can't pump froth very well, and as a result, it can't get oil to the parts of the engine that need lubrication.
If you are low on oil, you can add any grade of engine motor oil you like — though we advise you to use the grade of oil recommended in your owner's manual.